It might be the best gift they ever get!
Gifting Sense helps children get ready for all the personal finance decisions that lie in their future  –  by having them thoughtfully consider what they might like to receive for birthday or holiday gifts – which teaches them how to think before they buy!
We are a free public good, a passion project, not a revenue generator. There is no hidden fee structure. 
Sure, kids participate in our workshops and work through the DIMS – Does It Make Sense?® Score calculator to "get what they want". But in the process they learn how to quickly research the true value of a possible purchase, and how much they will really use and appreciate something, before they ask for it. Parents and extended family members are able to stop wasting time and money buying under-appreciated gifts. Fewer items end up in landfills. It's a win-win-win!
But don't just take our word for it, click on a Get Started Button, answer 10-15 questions, calculate the DIMS Score® for a wish-list item, and see for yourself how easy it is to give children the habit of thinking before buying – otherwise known as one of the best gifts ever!
We Teach Financial Literacy
We help kids understand the true value of their requests, and to become more financially literate, by asking them all the questions parents normally want answered before agreeing to spend money.
How much does it really cost?
How often will you really use it?
Do you know and understand the return policy?
Can someone else in your family use it when you are done?
We love Dr. Randy Pausch who coined the phrase "head fake" when describing the indirect learning that took place when Middle School aged children took a course that taught them how to create small computer animated games – but really taught them how to code.
We can similarly use holiday and birthday gift shopping to teach financial literacy in a fun and engaging way. Why be vocal about how much we wish someone had taught us more about money when we were younger, and then waste the two times a year our own kids are "all ears" regarding lessons on wise spending?
We know that children often receive gifts they do not use or appreciate. Let's replace waste with more thought and happiness.
Kids learn how much items really cost
They learn about the power of planning and good manners
And to think before they buy!
Don't waste time arguing, simply ask your kids to use the DIMS – Does It Make Sense?® Score calculator to see if a purchase is a good idea.
Reduce gifting waste
Teach your children to think about all the factors involved in making a consumer decision
Be able to graciously share gift preferences when friends and family ask you what your child would like for an upcoming holiday or birthday gift.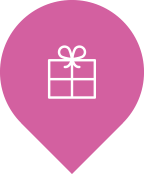 Help Reduce Gifting Waste
The satisfaction you'll get from knowing that your family no longer buys under appreciated gifts – the type that often end up in landfills – is the present you are giving the planet!
Press
Have a look at what others are saying!
Our middle schoolers responded enthusiastically to how the DIMS Score calculator helps them lay out the math and important stats to justify a purchase. The website was user friendly, self-explanatory, and an easy to use tool that students shared they will continue to utilize on their own going forward.
HEBREW PUBLIC CHARTER SCHOOLS FOR GLOBAL CITIZENS
Gifting Sense presented to a group of freshmen here at Quest Forward Academy. The content was extremely relevant and our students were excited to be a part of it. Being able to answer questions about their purchases, or purchases they are asking a family member to make, really helped them learn the value of an item. Our students said they could see themselves using the worksheet regularly.
QUEST FORWARD ACADEMY OMAHA
"Awesome class! Every child should take it!"
"My son really liked the real-life examples he could understand."
"The content of the class and positive interaction are top notch. It really made an impact on our daughter."
"Oh Wow!" Was what one of the kids on today's KiddieNomics webinar said when they found out what the real cost of "just" going to the movies would be. All thanks to the PHENOMENAL Gifting Sense.
STACY BROWN, FOUNDER, KIDDIENOMICS
How can we get our kids to thoughtfully consider what's on their wish list for the holidays (or their birthday, graduation or other celebrations)? Ask them to calculate the Does It Make Sense?® Score for possible purchases. Calculating the DIMS Score teaches kids to quickly research the true value of a possible purchase – how much they'll really use and appreciate something before they ask for it.
ROBIN TAUB, CPA, CA, AUTHOR, THE WISEST INVESTMENT
Gifting Sense has a most interesting approach to helping young people learn how to avoid FOMO (fear of missing out), reduce waste (of time and money), and protect the planet, all through more thoughtful consumer decision making.
DR. MOIRA SOMERS, PH.D., C.PSYCH. AUTHOR, ADVICE THAT STICKS
I love how the real gift, the one that can last a lifetime, is learning how easy it is to think before you buy.
NICOLE DUBÉ, CTV MORNING LIVE
GiftingSense.org is genius. It walks your kid through a big purchase and gives them a DIMS ("Does It Make Sense?") Score. How much is the item? How many times will you use it? And it generates a letter for the kids to give their parents to justify their purchase.
BRUCE SELLERY, CEO CREDIT DEBT CANADA, HOST MOOLALA PODCAST
Welcome to 2022 where even buskers accept electronic payment. Bruce Sellery knew financial technology was going to result in the continuing abstraction of money when he wrote his 2011 book, which is why it is worth reading now more than ever.
We've recently become aware of the fact that calculating the DIMS Score® for a possible purchase is an atomic habit. (Thank You Dylan Ingerman and James Clear!) Learn what an atomic habit is, and why we are so pleased to be one.
Kelley Keehn's eleventh personal finance book offers a series of succinct composite narratives that just might be able to prevent your daughter from experiencing financial heartbreak, on top of the traditional kind.
Feel like you are living in the movie Groundhog Day? Back to school is supposed to be the high season for fresh starts. Maybe we can get closer to that ideal if we use a different acronym than RTO?